ELECTRONICS - [Datasheet Manager]
Electronic Datasheet Manager
About Electronic Datasheet Manager
I am currently working on a software tool to search & view PDF datasheets for electronic components, such as the well-known transistor BC547. The software allows you to select a folder where you keep your PDF-datasheets. It will then build a list with the names of all your datasheets. You can search the list by entering a part of the component name, or you can create a second list with just your favorites.
You can double-click a component to view the details in the integrated browser. For this the program will generate a HTML webpage. By default, this page will be quite empty and only provide you with a link to view the PDF-datasheet in the browser. But, the program also allows you to create a connection-diagram and a properties-table. This will take some time but doing so you can build a collection of data that matters most to YOU.
Keep in mind the software comes without any PDF-datasheets. It is just a search tool to find datasheets that are already on your computer.
You need to import & create the table data yourself.
It assumes you named the datasheets after the components, like BC547.pdf.
It is not a database application: it stores the diagram (JPG-file) and table data (CSV-file) in a folder.
This software is not yet available for download but you can request a free copy by contacting me.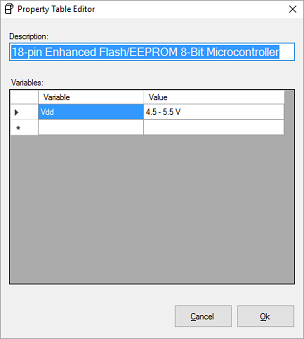 Download
You can download a beta version by clicking the link below. The version is functional but might still contain some bugs. The download doesn't contain a setup.exe, all required programfiles are zipped.