SOFTWARE - [Deadline-IT]
Deadline-IT
What is Deadline-IT
DeadLine-IT is a small countdown tool I created because sometimes I need it for my job. This utility allows you to run one or more countdown timers/stopwatches. Each counter can be set with its own duration. A progress bar is shown so you can see the remaining time from a distance. An optional bell will ring when the counter reached zero.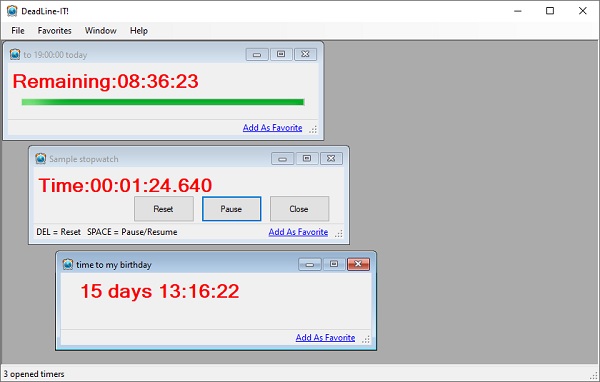 How does it work?
You can click the menu File\New Timer to launch a new timer. A parameter window will open. Here you can define the parameters: a description, the duration, enable/disable of the bell. Once everything is set you can click the 'Make Timer' button to launch the countdown process.
Features
DeadLine-IT has the following features:
Timer mode: count down the specified timer interval or towards a specified time of the day.
In timer mode you can choose to show an optional dialog title, play a sound when the timer is expired, choose a time format (minutes, seconds, HH:MM:SS).
Stopwatch mode: run a stopwatch that can be controlled with your space-bar.
IntelliTimer Mode: count down the number of days until a specified date/time.
Create favorite frequently-used timers that can be added to a menu in the main program
Create a Windows shortcut to a favorite timer so you can launch it immediately from your Windows desktop
Download
Deadline-IT is written in Visual Basic .NET 2019. You can download the program by clicking the button below.