SOFTWARE - [Photo GPS Extract]
Photo GPS Extract
What is Photo GPS Extract?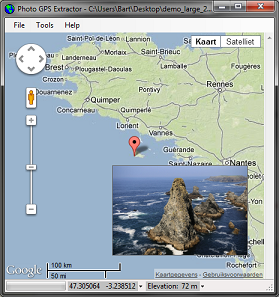 Photo GPS Extract (PGE) is a small utility to visualize the GPS coordinates of a JPG photo on a map. This allows you to see the location where a certain picture was taken.
More and more modern digital cameras have a build-in GPS module. They record the latitude, longitude and elevation at the time a photo is taken. Don't worry if your camera doesn't come with a GPS receiver: you can add the GPS coordinates yourself afterwards. The GPS information is stored inside the JPG photo. This information is not very useful without a tool to visualize it: this is why I designed Photo GPS Extract.
PGE uses the Google Maps to show the locations. This means the application requires an active Internet connection: you can't use PGE offline.
Information
1 February 2014: Over the past year I have been working on a new version of Photo GPS Extract. This version introduces cool new features such as the possibility to load multiple locations on the map. While this version is still in Beta-test, you can already view an overview or download a beta version.
How to use Photo GPS Extract?
Photo GPS Extract offers several ways to view the location of a JPG photo:
Launch PGE and open a photo through the menu File - Open Photo.
Drag a JPG from your desktop or Windows explorer, and drop it over PGE's main screen.
Right-Click any JPG photo in Windows Explorer. Then go to the "Send To" menu and select "Photo GPS Extract". PGE will launch and show the location of the photo.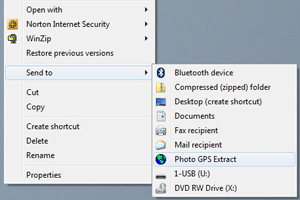 The location is then shown on a Google Map. The map itself offers a scale control, a zoom control, some buttons to choose between maps/satellite imaginary, and of course there is the Pegman: the orange icon that allows you to jump to the streetview modus.
Extra features
Starting from version V4, PGE also contains a Batch Extractor. This function allows you to extract the coordinates from all photos in a certain folder. All data is presented in a list.
Then you can export the data to a CSV file (text database that can be opened with Microsoft Excel), or to a KML file (Google-Earth file).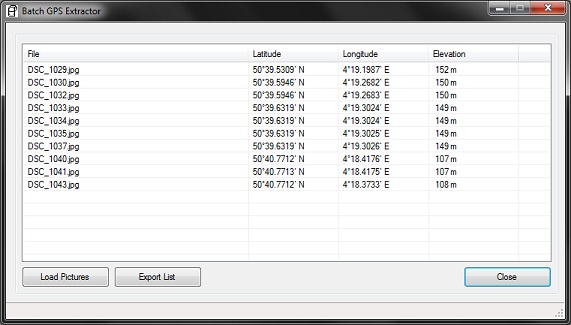 Download
Photo GPS Extract is written in Visual Basic .NET 2010. You can download the program by clicking the button below.
You can also download some geotagged sample photos to test PGE: I took them during my holidays.